Microsoft's products are used in many companies to support processes, strengthen the collaboration and improve productivity. By tying ProMark to the Microsoft universe in various areas, companies can maximise the value of their solutions and better meet the requirements of a modern workplace.
Companies and organisations worldwide use Microsoft solutions on a daily basis in a variety of contexts. With tools that improve productivity, strengthen team collaboration and support ERP processes, Microsoft's solutions can meet most requirements of a modern workplace.
But when it comes to managing the employees and their working time and absence, shift scheduling as well as job and project registration, many companies need to add a specialised solution like ProMark to achieve optimal support of these processes and simplify registrations for the employees.
Therefore, we have huge focus on continuous development of ProMark to fit into Microsoft's – and thus most companies' – universe.
Efficient collaboration and increased productivity
ProMark has had standard integration to Office 365/Outlook for a long time. This means that absence like holiday leave and illness becomes visible in the employees' calendars when registered in ProMark. To comply with GDPR requirements, the absence reason in the calendar is generic, whereas the detailed absence reasons can be handled by employees and managers with relevant user rights in ProMark. In this way, employees can easily keep their colleagues updated on their absence – without updating two systems.
If you use our employee scheduling functionality, the employee's working hours can also automatically be exported to Outlook. This means that information about the assigned shifts and their start and end time will become visible to others. And if the employee bids on a vacant shift, it will also be transferred to Outlook when the manager or planner has accepted the bid.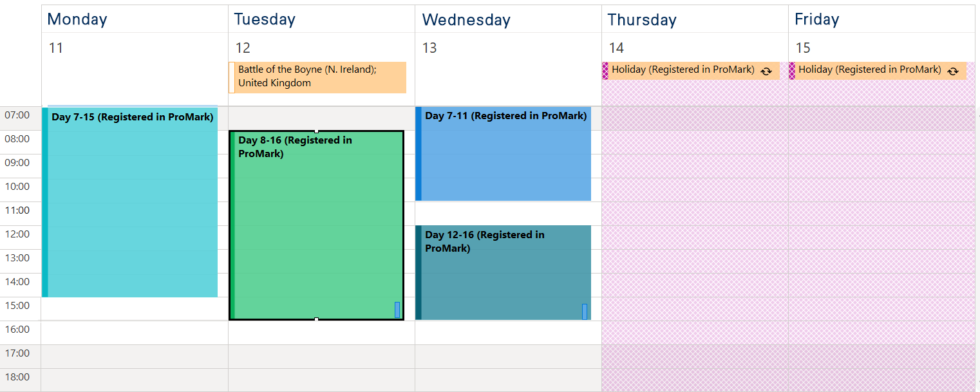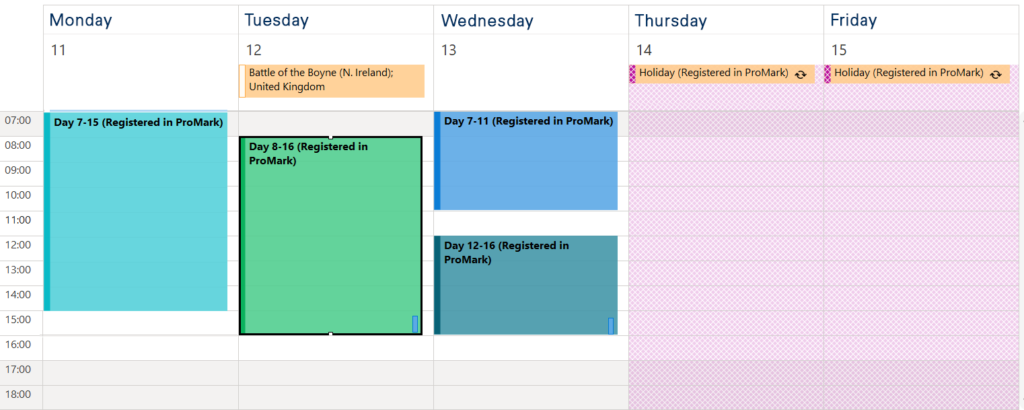 We also see Microsoft Teams as a strategic important platform to deliver a coherent user experience across business applications. Therefore, we have teamed up with Microsoft to expand the Teams platform with more digital workflows to increase productivity even further.
ProMark and Microsoft Teams have many use cases for both employees and managers, and we see great opportunities in being able to support 'a day in a frontline worker's life' – with Microsoft Teams as the primary user experience.
For a start, we focus on employees and some of the use cases we are working on are enabling employees:
To clock in and out and get an overview of their ProMark registrations and work schedule via Teams
To make job registrations in relation to MS Teams Tasks
To collaborate on tasks and data from ProMark via Teams in real time
To use Shifts in Teams, generated from advanced shift scheduling in ProMark
The new app will connect and empower the employees as well as strengthen their collaboration and productivity, while meeting the company's need for collecting business-critical data. We expect the app to be ready in the summer 2022, and it will continuously be developed with functionality to support e.g. manager workflows.
Complete control of tasks and production processes
ProMark collects data and time at a very detailed level while at the same time offering intuitive user interfaces on e.g. mobile app and web portal, enabling employees to easily make registrations with just a few clicks.
This makes ProMark an obvious choice for companies that require collection of valuable data on current projects, activities and orders in real time.
Via standard integration to Dynamics solutions, ProMark is fed with master data on projects, orders and operations from the ERP solution and sends back data on time spent on the individual tasks. In addition to hours, companies can also collect updated data on produced/scrapped units, status on production orders and materials consumption, directly from the shop floor. And if needed, you can extend the standard integration in relation to data flows and fields so you can exchange exactly the data that meets your specific requirement. This provides a data-driven basis for forecasting, follow-up, post calculation and optimisation – and ProMark thus increases the value of the company's Dynamics solution.


To ease the modernisation journey towards the new Dynamics 365 solutions, we have built a ProMark solution specifically for Microsoft's AppSource. Thus, you will get a certified standard solution with built-in integration to Finance/Supply Chain Management and Business Central which supports configuration instead of coding. And we are continuously updating the solution according to new Microsoft versions in the cloud. This makes it easy for you to get started and eases the subsequent maintenance of the solution.

ProMark & Microsoft Dynamics 365 FO:
A joint solution with great value
Bankdata has implemented ProMark with integration to their Dynamics 365 Finance & Operations solution. All consultants must register project hours, providing Bankdata with an overview of time spent to be able to calculate the costs of specific deliveries to their customers. The projects are created in Dynamics 365 and loaded into ProMark for registration of project hours after which data is sent back for further processing and follow-up.
By integrating ProMark and our D365FO solution, we get exact data for the payroll preparations and efficient documentation of the employees' project hours for the ongoing follow-up, in one and the same process. This is of great value to us, says Louise Godsk Østergaard, Finance Department Manager in Bankdata.
Scalable platform with high security
Microsoft also plays an important role when it comes to the operation of ProMark as we have chosen Microsoft Azure as the platform for our cloud solutions.
The Azure platform is a widespread standard for cloud solutions. The platform offers – among other things – scalability according to requirements and high security by maintaining a wide range of global and local certifications such as various ISO standards and GDPR. This means that you do not have to maintain security yourself but can leave the responsibility to IT professionals who do nothing but ensure that ProMark solutions on the Azure platform are both stable and compliant, at all times.
In the long term, we have plans for utilising this platform even further as part of the development of our cloud infrastructure.
Close collaboration benefits both you and us
Through our offerings on AppSource, our focus on the Azure platform and our certification as Microsoft Gold Partner, we have strengthened our partnership with Microsoft significantly.
As Gold Partner, we must meet strict requirements for certification of our employees and customer references. This means that:
We are always up to date on the latest Microsoft products and technologies
We continuously expand our knowledge and qualifications by passing difficult exams on an ongoing basis
We have access to advanced support from Microsoft, if needed
It also implies that we are focusing even more on working with Microsoft to explain the value of combining ProMark and Microsoft products for a completely optimised solution to companies.
The collaboration means that companies can trust that ProMark is a future-proof solution for those who have already chosen – or consider – a Microsoft strategy. Our close relationship to the Microsoft team and our deep understanding of Microsoft technologies allow us to ensure that you can maximise the value of your Microsoft products in combination with your ProMark solution.