We want to be a responsible, reliable and environment-friendly company
Taking our promises seriously
We help businesses simplify their operation. Our products, services and advice give our customers operational and financial benefits in their daily work.
It is a promise that we take seriously. A promise that requires mutual trust in the relation between both us and the customers, partners and among all the employees.
We want to be a responsible, reliable and environment-friendly company – for our customers, shareholders, employees, suppliers, partners and the society in which we operate. We want to build trust with all our stakeholders, and we run our business in a responsible, ethical, and lawful manner to fulfil our obligations.
Explore how we work with ESG below:
Environmental responsibility
Social commitment
Diversity
Talent
Customer satisfaction
Governance
Data protection
Business ethics
Cybersecurity
Environmental responsibility
Focus on climate and the environment
As a healthy business, we believe we are accountable for the future and have an imperative role to play in addressing global climate change. We work to run our business operations in a continually more sustainable way, thereby reducing our negative environmental impact which almost entirely relates to energy consumption since we are operating in an industry with no carbon-intensive production.
#1  Hotel platform Goodwings
Business travel accounts for approximately two thirds of our emissions and is therefore the first place to start reducing and removing emissions.
Therefore, we have made an agreement with an online hotel platform, Goodwings, that allocates money to carbon-offsetting projects by paying for removing emissions which are caused by our employees when they travel.
#2  Energy efficiency
As part of our efforts to reduce CO2 emissions, we offer our customers workforce management operations on a cloud solution (Microsoft Azure) for improved data centre energy efficiency. From 2021, we have chosen Microsoft Azure as our main cloud supplier/hosting partner. Microsoft's public cloud services have been operating 100% carbon neutral since 2012 by applying a global internal carbon fee model that charges Microsoft business units for carbon emissions from their operations.
We are also committed to complying with environmental laws and regulation and to minimise the environmental impact of our business. This includes e.g. selecting technological solutions that minimise the energy consumption and the environmental footprint. In 2021, this has also been expressed in transforming our energy system to the more sustainable district heating.
#3  Part of UN Global Compact and Global Compact Network Denmark
We have joined the UN Global Compact and Global Compact Network Denmark – respectively the world's largest initiative for responsible business and Denmark's largest network for responsible companies.
As a participating company, we are committed to continuously strengthening our work with the 10 Principles of the Global Compact within human rights, labour rights, the environment and anti-corruption as well as to contribute to the 17 Sustainable Development Goals.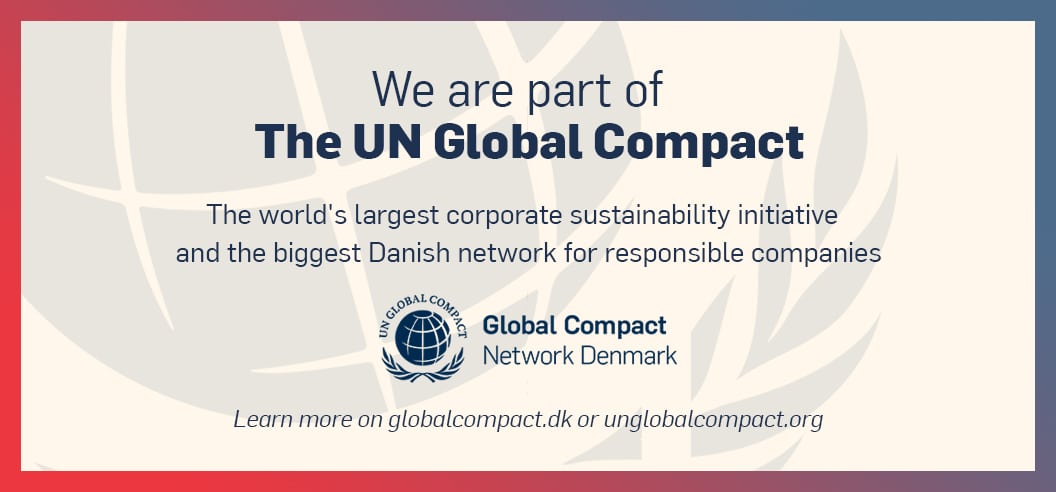 #1 Taking data and cyber security seriously
We take data and cyber security seriously. We have established procedures, controls and technologies to ensure the confidentiality, integrity and accessibility of the information. Both data security and cyber security are important factors in the protection of the companies in the ProMark group.
We pay attention to protection and processing of information, and we set requirements for data and cyber security which must be complied with both by employees and external collaboration partners. We carry out risk assessment analyses and contingency planning on a regular basis. Furthermore, we have internal procedures that result in a high level of security in applications, systems and infrastructure.
We acknowledge the risk connected to data and cyber security. Therefore, we ensure that the employees get sufficient training. Thus, all existing and new employees are obliged to complete e-learning ensuring knowledge and focus on data and cyber security.
In order to confirm our data security, we have obtained the following certification/declarations:
As part of our 27001 certification, we are also very well prepared for the coming NIS2 directive from EU.
ISO 27001
ISO 27001 is an internationally recognized standard on how to manage information security. The standard provides companies with a framework that ensures a structured way of handling information security and helps protect valuable information, including personal data, in a secure and reliable way.
The certification will be reviewed once every year by Nemko and the certificate can be downloaded here.
ISAE 3000 type 2 – Auditors' report on GDPR compliance
The ISAE 3000 assurance report documents that we have established processes and internal controls in accordance with the data processing agreements made, in order to meet the requirements of the General Data Protection Regulation (GDPR).
The report is renewed annually by the state-authorised public accounting firm PwC. Customers can download the report from our customer portal.
If you have any questions or comments to the report, please feel free to contact our DPO at gdpr@promark365.com.
#2 Whistleblower: The possibility of reporting illegalities
We use the National Whistleblower Scheme. All whistleblower reports are immediately investigated in a confidential manner while protecting the whistleblower.
If you find inappropriate business or personal conduct with one of our employees, which is a potential or actual contravention of our Code of Conduct and its principles, we encourage you to report this to the Chairman of our Board.