User interfaces for every need
Simplify daily life with intuitive tools that ease registration of time and allows for personal overview of various balances, self-service and carrying out tasks related to ProMark, such as approval.
ProMark picks up data from multiple user interfaces – right here and now, ensuring correct data from the source – wherever you are. We will help you find the optimum combination that covers the needs of all your employees in relation to working processes and physical location.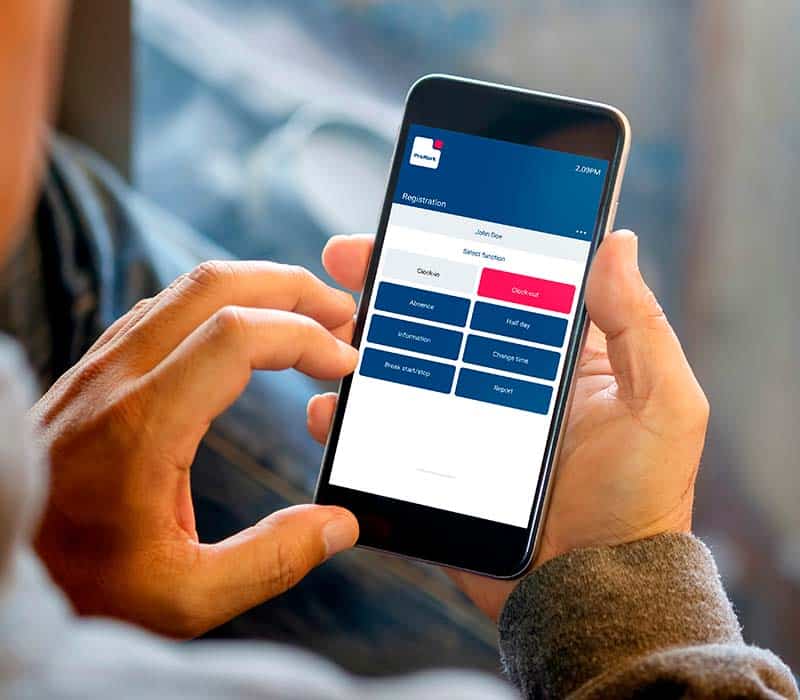 Always at hand for registering when you work or what you work on.
Managers can approve registrations, requests for leave and shift swaps.
Available for both iOS and Android. GPS tracking is an option.
Clock in and out
… and register all types of absence such as holiday or illness. And even your time spent on different activities.
Overview
See your work schedule, who is present, and your balances on holiday, flexitime and overtime.
Request leave
See whether it has been approved and always know if you have accrued leave for your next holiday.
Self-service
Swap, sell or take on shifts.
The intuitive interface to ProMark with all the functionality tailored to your needs, including scheduling and approvals for managers.
Can be integrated with your intranet.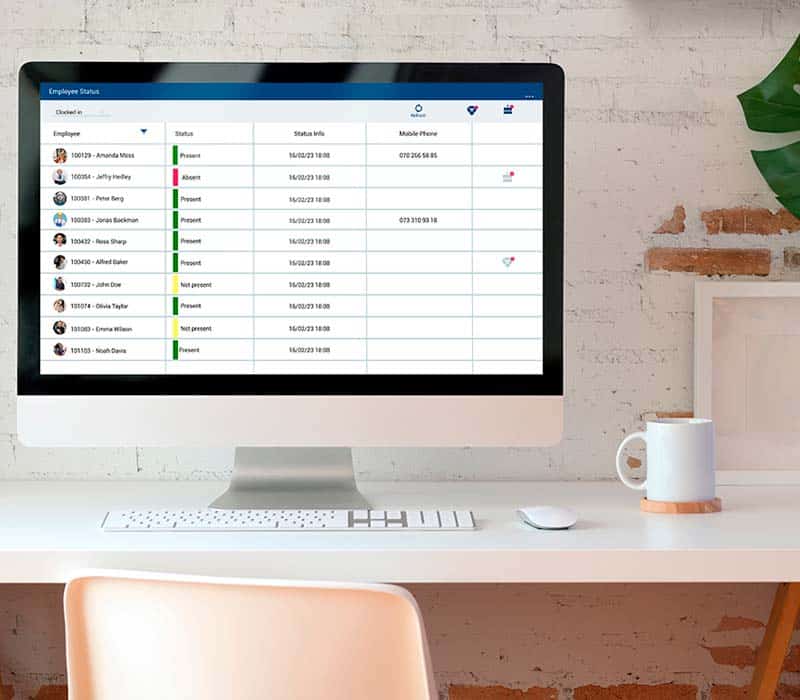 N

Clock in and out

N

See status on holiday, overtime etc.

N

Holiday/leave requests

N

Register time on projects or activities

N

Swap and bid on shifts

N

Pull reports
N

Overview of absence

N

Approve registrations and absence

N

Pull reports

N

Easy scheduling of your employees
N

Save time through workflows

N

Automated reminders to managers & employees

N

Stepwise payroll preparation
Robust registration terminals – also for harsh or humid surroundings. The terminals can collect registrations offline in case of network or server failure.
Your working time
Clock in and out and register absence, breaks etc.
Your tasks
Register what you are working on, amounts and supplements.
Your information
See your registrations and balances on holiday, overtime etc.
ID methods
Can be combined with the ID method of your choice – biometry, proximity, mifare, HID, barcodes or other.
A Windows-based terminal with powerful and intelligent offline functionality for registrations of all kinds via PC or tablet, in the office and on the go.
N

Can be set up for general use or as a personal terminal with a role-based interface
N

Quick setup for new users

N

Central administration and update