Working life is moving into the mobile phone at a rapid pace. Therefore, mobile apps are a pivotal element of a modern Workforce Management solution. Learn how you can boost employee flexibility and efficiency with the mobile app.
In recent years, the mobile phone has gained a very significant role in most people's everyday lives and is used for handling small and large tasks on a daily basis. And new functions are constantly added – also when it comes to using the mobile phone as a work tool.
Mobile apps have also become a pivotal element of a modern Workforce Management solution. Therefore, ProMark is continuously developed for this particular user interface.
The development is both of a more technical nature to keep the product up to date with the market as well as functionality-oriented where we constantly add value-creating use cases based on customer demands and wishes.
Single sign-on, ongoing compliance with security requirements and improved performance are just some of the development areas.
When it comes to functionality, we are working diligently to make the mobile phone a work tool which is at least as valuable for employees as the pc, with a huge focus on duplicating functionality from our portal solution to the mobile phone.
Did you know?
… that employees could register in ProMark via their mobile phone way back in 2002 – long before apps had been invented?
With our WAP-link product, we supported a WAP protocol which allowed employees to send registrations from their mobile phone. But the market was not quite ready for this at the time.
Now all options are available in our mobile app which can be downloaded from App Store and Google Play.
Note: The first iPhone was not released until 2007 in the USA
Efficient registration and self-service
The mobile app provides employees with the best conditions for registration of attendance and absence – wherever they are. In addition, they get access to own information and different self-service options.
The app allows employees to:
Clock in and out
View status on holiday leave, flexi-time and overtime
Register absence, all day or part of the day, including requests for holiday and time off
Register time spent on tasks:
– Project time (time/activity)
– Clock in and out on jobs
View own work schedule
Swap, sell or bid for vacant shifts
Receive automated push messages regarding e.g. forgotten registrations
And managers can also approve registrations, requests for holiday and time off as well as shift swaps
Employees can also easily register supplements, mileage and daily allowances in the mobile version of ProMark's calendar view. They get an overview of their registrations for the week and can enter time on pre-defined projects – and sign off either the week or project if the company wants.
More and more people are working outside the office, all or part of the working day. E.g. with customers or at home as the corona pandemic has resulted in more flexible/hybrid working in many companies. With the app, they have ProMark in their pocket all the time and can manage their daily registrations – easily and efficiently.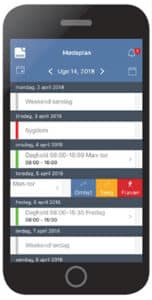 Involve your employees in your scheduling
The app is also an effective tool in relation to planning, and not least in the communication around working hours. Here, the individual employee can always see his/her own work schedule – which is of particular advantage if he/she has rolling shifts. And if the plan changes, affected employees can be notified.
The employees can also see – and bid for – vacant shifts which have arisen due to e.g. illness, just as they can swap and sell shifts to colleagues. By utilizing the built-in approval flows, your company can ensure that managers can easily approve relevant shift swaps and other activities that employees carry out through self-service.
With the app, you can involve your employees in your scheduling and give them co-influence on their own working time. Both the permanent employees and the more flexible workforce if you have casual workers who are allocated hours as needed.
The app simplifies the communication between managers and employees and contributes to more flexible and efficient planning with less administrative work for all parties.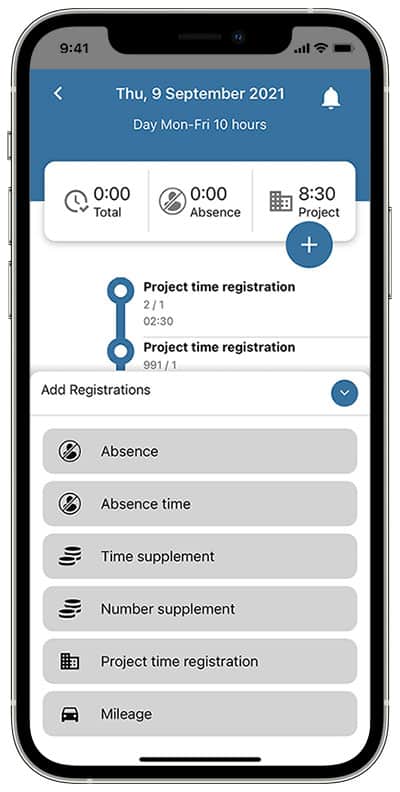 Better control of tasks and projects
The app also supports ongoing registration of working hours on projects as well as clocking in and out on jobs – with just a few clicks. This saves time, minimises errors and provides effective documentation of hours for follow-up and possibly invoicing.
As something new, employees can also see the specific tasks and responsibilities they have been assigned by their manager or the planner on each working day in the attendance plan on their mobile. In this way, the company can ensure that the responsibility for important tasks is delegated, and the employees know exactly what to focus on on the particular working day. Simple and easy.
Do you want to be part of the future development?

Task Management is an area we want to develop much further – both in general in relation to mobile functionality and when it comes to allocating employees to tasks.
If you want to be part of an active collaboration on further development of mobile functionality to both managers and employees, please contact us.
The future calls for mobility and flexibility
There is no doubt that workplaces of the future will be met with demands for more mobility and flexibility. By moving ProMark functionality into the mobile, employees can gather working life and private life in one place – and at the same time be everywhere.
The many features of the app can contribute to an even more efficient and flexible working day as it:
Provides better overview of working time, possible changes and tasks
Makes it easier for the individual employee to register time (also on tasks), absence, supplements, mileage and daily allowances
Provides access to information such as balances on holiday, flexi-time and overtime accounts
Supports flexible/hybrid working where employees both work at home, in the office and with customers
Saves time for all parties through increased self-service
Makes it possible to track progress on tasks through a real-time overview of hours spent
Quickly provides an invoicing basis if the employees' hours are billable
Using modern tools can have a very positive effect on a company's employer image. Both in relation to the satisfaction among current employees but also when it comes to being able to attract new employees belonging to the generation of digital natives. So why not move ProMark into your mobile phones?