Offers of the week. Seasonal items. Holidays. Buying patterns and weekly cycles. Illness and courses. There are many factors to take into account when Coop plans the distribution of goods to its stores. ProMark helps to balance capacity and load – and enhances the efficiency when picking the pieces of goods.
Coop is the biggest retail chain in Denmark operating the chains Kvickly, SuperBrugsen, Dagli'Brugsen and coop.dk, as well as its subsidiaries Irma A/S and Fakta A/S. In total, there are more than 1,200 stores all over the country.
Coop has 7 distribution centres and warehouses, all of which use ProMark. The distribution centres are located in Aalborg, Hasselager, Vejen, Odense, Brøndby, Rønne and Albertslund and have the overall responsibility for managing supplies to the stores.
Ensuring the right goods to the right stores at the preferred time requires a comprehensive overview and planning! If too few warehouse workers are called in, they will not be able to pick and pack items to meet the planned delivery routes. And the stores will not get their goods on time. And vice versa – payroll expenses are affected if too many employees are called in.
Due to a modest development in the retail trade, more foreign discount chains and the spread of meal subscription boxes, the competition on the market has become fiercer over the past few years. As a result, continued streamlining is necessary in all parts of the organisation. Hence, it is even more important for Coop to find the perfect balance between capacity and load – over the day, week, month and year. An exercise that requires a painstaking planning cycle in practice.
Consequently, Coop established an optimisation project in 2016 in order to identify a solution to this particular challenge. The project was assisted by an external consultancy company that observed a series of internal processes and came up with recommendations for optimisation.
Heavy administrative planning process
Coop currently employs 170 warehouse workers in Albertslund who work on a two-shift basis. Essentially, the planning of these shifts can be divided into two sub-processes:
Identification of what is to be done and when (load)
Allocation of resources in accordance with working hours (capacity), including handling of deviations such as illness and changes in tasks
However, the load at Coop is affected by a number of factors which make it more difficult to allocate resources:
Forecasts based on historical data from the past few years
Campaigns from head office (advertising material)
Specific orders from individual stores that arrive before 5pm every day
Uneven warehouse load (heavier load in the mornings)
Imbalance in the number of packages to be delivered on the different days of the week over the year
For many years, staff roster planning has been managed from forecasts based on historical data for the past few years and personal experience right up to the day before delivery. This has made planning dependent on individuals, non-transparent – and occasionally imprecise.
Moreover, planning has been carried out in a number of proprietary, inconsistent systems using manual workflows. Not only has this increased the risk of data input errors; it has also made it difficult to obtain valid data and hence acquire a fact-based decision-making basis for the long-term planning.
"Previously, two employees spent eight hours over a number of days to get data from six different systems, and hence in different formats. And if we needed to create a new simulation, we had to start all over again," says Lars Rowland Brandi, head of planning at Coop in Albertslund. "Today the whole exercise takes a couple of hours and the result is better."
A consolidated platform for data extracts
Coop has been using ProMark for many years to record the employees' time, attendance and absence as well as for staff roster planning.
A number of workshops demonstrated that – among other things – it would be valuable for Coop to complement the existing ProMark installation with our business intelligence solution for analysis of causal relationships based on the data contained in ProMark. The information can be provided as data cubes that can be integrated with the company's IT environment. This will allow ProMark data to be used in combination with other data, which will increase transparency.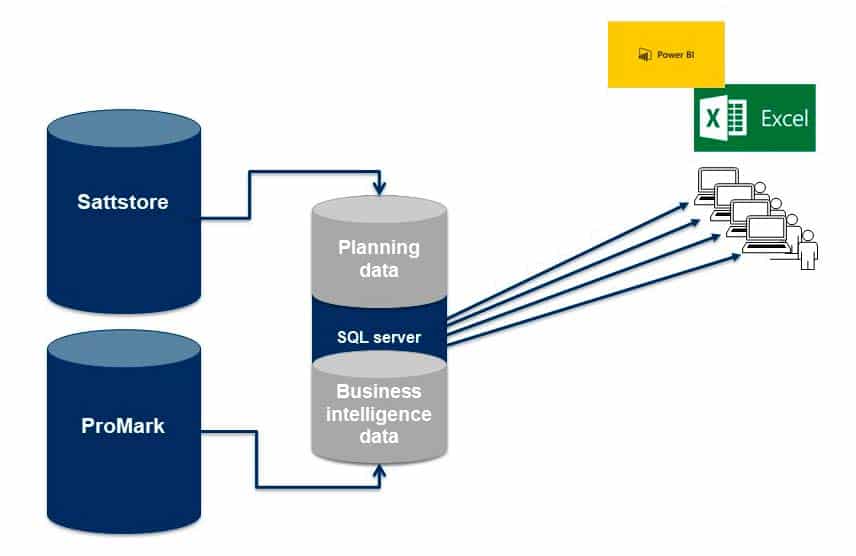 The employees will continue to register their attendance and absence (holidays, courses, illness, etc.) in ProMark. Data is exported to a data warehouse every day, providing an overview of the capacity. A similar export from SattStore, the Warehouse Management system, is made forming the underlying data for the load (stores' orders plus campaigns and seasonal goods). Both planning data and historical data is stored on the server.
The actual load can be calculated when the following day's orders have been received and stacked in delivery routes. The load can be divided into time intervals (e.g. hours), thereby allowing the need for resources to be planned.
Data is extracted and processed via a Power BI solution that visualises the data in a number of dashboards related to the KPIs set up by Coop.
This provides an overview of available resources, and based on the continuous receipts for completed picking of goods, Coop can constantly monitor the progress as wells as the remaining work for the day – and adjust levels if necessary.
This clear and valuable insight provides the foundation for faster and much better decisions. Moreover, it is possible to drill down into the data directly in the tool, which can be used by multiple users simultaneously.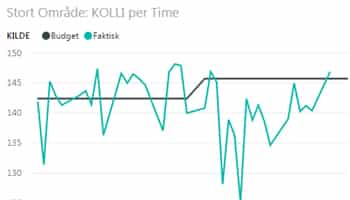 Fact-based planning and decision data
The business intelligence solution has been in use at the Albertslund distribution centre since May 2017. And the benefits are noticeable.
"The biggest difference on a daily basis is absolutely clear. We are spending our time making the right decisions, not on obtaining data," says Lars Rowland Brandi.
Coop has also achieved:
A consistent IT system that consolidates planning data and makes it available whenever and wherever it should be used
Faster, more precise adjustment of capacity in relation to absence and deviations
A better overview of when notifications of holiday among the employees are to be provided
Less overtime for warehouse workers and fewer temporary workers (working normal hours rather than overtime is saving money)
Reduction of non-activity-based time (e.g. clearing up)
Fewer team leaders needed as planning takes place centrally
Aiming for further streamlining
As a result of the benefits achieved by Coop in Albertslund, the company is planning to roll out the solution to its other six distribution centres in Denmark.
In addition, Coop has a vison to granulate planning still further, giving them control on an hourly level.
"If we can create an even closer link between needs and resources, hour by hour, we will be able to streamline our business even further," concludes Lars Rowland Brandi.