Welcome to 73 new customers and 3 new colleagues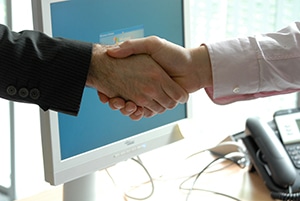 Effective from 3 April 2017, ProMark A/S has acquired the WinTid activities from Dansk Tidskontrol A/S and welcomes 73 new customers.
The customers use the WinTid software for time & attendance registration, job registration and access control. In addition, many of them have hardware installations based on Kaba terminals. The customers are guaranteed continued support and assistance with the system as ProMark will take over three experienced employees as part of the agreement.
Our own ProMark Workforce Management system has been integrated with Kaba's terminals for a few years. Thus, there is great synergy between the two companies, as WinTid Danmark is Kaba's distributor in Denmark.
We are very pleased to create the framework for more growth in ProMark in Denmark with the acquisition of WinTid Danmark A/S and we look forward to working with our new customers.

Torkel Olrik, CEO and partner in ProMark
The activities will remain in WinTid Danmark A/S, which is now a 100% owned subsidiary of ProMark.