New report from IHS: ProMark still in front in the Nordic countries
IHS forecasts that the global market for Workforce Management solutions will grow steadily towards 2019. The growth is driven by the penetration of SaaS solutions (Software as a Service) and a greater adoption, especially among small and medium enterprises.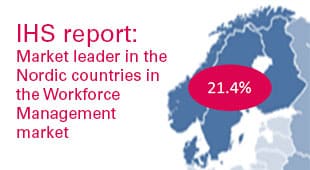 On the hardware side, the deployment of biometric terminals is the primary factor in creating growth.
This technology is developing rapidly, and the new possibilities mean that manual entries are replaced by biometric terminals where data is collected via fingerprint. This increases safety and reduces the possibility of cheating (buddy clocking). ProMark recognizes this trend from the UK market.
With a market share in the Nordic region of 21.4% ProMark is the largest in the industry there. ProMark has enhanced its position as the largest supplier of Workforce Management solutions in the Nordic market since the market share has risen from 19.3% in 2013 to 21.4% in 2014. In particular, SAP and Kronos have declined in the Nordic region.
"The IHS report shows that the Workforce Management market continues to grow and that it is one of the important tools in the toolbox for the most efficient and productive enterprises. This places high demands on innovation and product development, and we therefore use about 20% of our revenue on development. So it is not surprising that ProMark maintains its position as Scandinavia's largest supplier of Workforce Management solutions and continues to grow in the UK market,"

says CEO Torkel Olrik, ProMark
To serve as inspiration about a possible replacement of your company's existing solution, Findus, Hagen and Lantmännen Maskin have shared their thoughts on this process. Automation of administrative processes and demands for better management reporting play a major part when large companies decide to replace their present time-recording system instead of maintaining their existing solution.