We have just signed a strategic partnership agreement with Wirtek A/S to establish a new development and test centre in Bucharest with effect from 1 April 2017.
Wirtek has been present in Romania for 10 years and worked with ProMark over the past 5 years. Wirtek specialises in software development and product testing for Danish and foreign companies.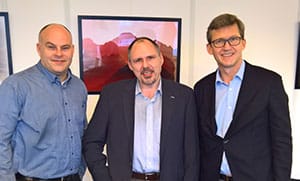 The competence centre in Bucharest will partly serve ProMark and our customers and also offer IT development and testing services to other customers throughout Europe and the United States.
For us, the strategic decision is rooted in the growing demand for specialised IT services. CEO Torkel Olrik says:
We are experiencing a significant shortage of IT competences in Denmark. Consequently, it is difficult – and expensive – to recruit employees with specialized IT competences, and the cost of procuring external IT services is also increasing. The situation is a bit different in Romania where the talent pool is larger and access to the right employees is better. Therefore, we can receive high-quality software development services from Romania at a competitive cost.
ProMark's current six employees in Bucharest will move to the new competence centre together with four additional employees. The centre is expected to expand over the next 1½ – 2 years to count at least 25-30 employees.
For further information please contact: